Description
The second tournament in Norway was indoors and developed at Kulturhuset i Oslo.
At the same time in Montevideo was carried out the first Uruguayan tournament ever, arranged by the AOPPO.
Both events had the same name (Copa Jennifer/Jennifer Cup), counted with live broadcasting in simulcast and with similar posters made by antipodes café.
In addition we added posters in walls of an empty building in Youngstorget, quite close to Kulturhuset. Were made just with A4 laser printed paper but stick quite high so they last very long there. For that occasion and upcoming ones we asked owners of the building where we placed this posters, so they clean up all the rest but not Pingpongo things.
---
TOURNAMENT

 JENNIFER CUP Montevideo – Oslo

Participants 16
Champion Asger Krogh (NOR)
Runner up Anja Naper (NOR)
Pictures
antipodes café
---
SUPPORT

THANKS
Entra ASA
AAPPO
AOPPO
Alejandro Torre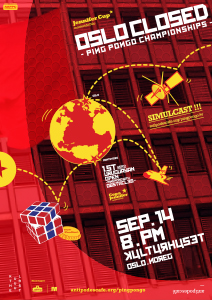 Location