Video
Description
The last tournament of 2013 was a certain kind of homage to Yoko Ono.
The walls of Pingpongo's room at Kulturhuset where covered in white. Light was purple. The table includes a projection of some white as geometric as random stuff over transparent Staunton chess set made of glass. During all pingpongo matches if one player hit one of this obstacles and win the point then had to place those pieces it into their side, giving more chances to the opponent to win points too.
Until QF matches included, in both sides of the table audience was playing WAR with big french playing cards. If ball hit a card in the air the game continue as if nothing happened but if the ball touched any part of a war player the point was repeated. In this sense war players could affect a match dramatically.
During Semifinals and finals players were listening with headphones a loop of the song "Happy Xmas War is Over" and during the 3 sets final players were also continuously singing the song aloud.
---
TOURNAMENT

 WAR IS OVER PINGPONGO

Participants 18
Champion Jo Ofrim Bjørke (NOR)
Runner Up Kristian Nørgaard (NOR)
Pictures
Alex Asensi
antipodes café
---
SUPPORT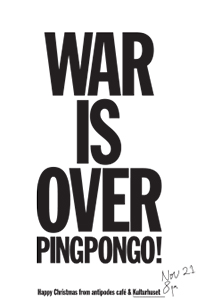 Location