Description
In July 2014 our dear friend Alberto Nanclares (from Basurama, Spain) told us that he was going to Río de Janeiro. So we suggested him to participate in the special tournament of Pingpongo that people from the Argentinian association AAPPO was arranging there. Such a nice coincidence and as imagined, was love at first sight. After his first Pingpongo experience, we start communication with Alberto for making two special official tournaments in Madrid.
So we arranged and coordinated with him the first tournament at Campo de Cebada, firstly designing the brand for PINGPONGO MADRID, posters -with pictures by Alberto- and other communicational materials for this first activity there. We also made two of the three tables for the tournament reusing old benches from the city. (Note: 'Banco' in Spanish means Bench, but also Bank, so nice prank for a tournament with several ones regarding Spanish economical situation of late years)
As members of the international Pingpongo board -PPOB- we also supervised this event and later a second one that he arranged at Espacio Ucrania in November 28th 2014.
We hope to continue collaborating with Alberto for establishing "PINGPONGO MADRID" as an official venue of Pingpongo.
---
TOURNAMENT

RELAXING CUP

Participants 32
Champion Álvaro García (ESP)
Runner Up Mario Fuentes (ESP)
Organization
Alberto Nanclares da Veiga + antipodes café
Poster
antipodes café (photo: Alberto)
Pictures
Basurama
antipodes café
---
THANKS
Jacobo García
Basurama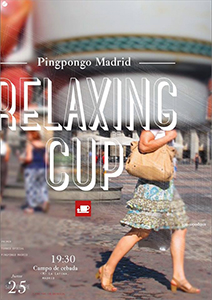 Location