Description
The kitchen of æHouse opened in January 2020, after a long process to find the right plot and materials for its existence.
It is a very intimate as exposed venue for everyday cuisine, where to cook up stories while sharing a dish with very few guests or random visitors at a time.
This space works also as an example of our initiative RESHOW, as mostly all materials used for mounting this space are debris from art, architecture, and kitchen exhibitions.
(Check RESHOW list at the bottom of the page)
---
The program of domestic activities around the counter, continue explorations and celebrations of everyday life performance beyond scripts and simulacrum proper of the whole æHouse.
It includes special gatherings and workshops, such as "Hoy Ñoquis" sessions on every 29th.
On Fridays, we arrange the activity "Kokkerering med…" in which we cook while following instructions from people in other latitudes via video conference projected straight in the wall of æKjøkken.

At æKjøkken we will try to use just ingredients hopefully made in a local environment, hopefully organic and free of janteloven, and acquired directly from local producers or specific organizations coordinating the delivery. Coffee is still from overseas, and we hope it continue to be, even if it is getting warmer day by day, consumption by consumption. In our case, to open a conversation on all it implicates, it comes by direct trade with local farmers from a world where many worlds fit in.
[Due to coronavirus æHouse is closed to the public, and its consummation will be anticipated to 2020.05.30]
---
Cooking at æKjøkken while following instructions from people in other latitudes via video conference projected straight in the wall.
For this activity, you can book a Friday in advance, and share the space with us and someone afar you like/miss♥/etc. Take in mind time zones, and that ingredients for that event are what we have in the place, and/or what you want to bring. We do not censor your food choices, but perhaps comment on sources if those imply for example, any apartheid state or forced labor. In our case ingredients come directly from local sources, mostly from small scale producers, and not from supermarkets, neither from overseas. Anyways we can have some left overs from previous Fridays, and from before starting this move towards a more coherent way of cooking.  You should coordinate beforehand the availability of the person afar, which should be able to connect to internet and to open jitsi for the video conference.  So, once the video conference start, ingredients are shown, and the person afar should come with an idea of what to cook.
We will provide the video conference link on the very same day of the activity, and in fact, anyone with that link can take part to the call, thus, you can invite other people if you want.
---
Please contact us for more details, and/or for booking a Friday.


On January 29th we officially open æKjøkken with HOY ÑOQUIS.
Several visitors on a nice rhythm, and first test of gnocchi made with buckwheat.
As in 2016, we celebrated on February too, this time with a more messy situation and one of the few nights of winter with snow.
In March 29th under "social distance" times, we celebrated for the very first time with an online call open to anyone, and people from diverse parts of Italy, Spain, Argentina, Uruguay and Norway join to make and enjoy gnocchi. Such an amazing experience.
—
Soon we will add more pictures and comments.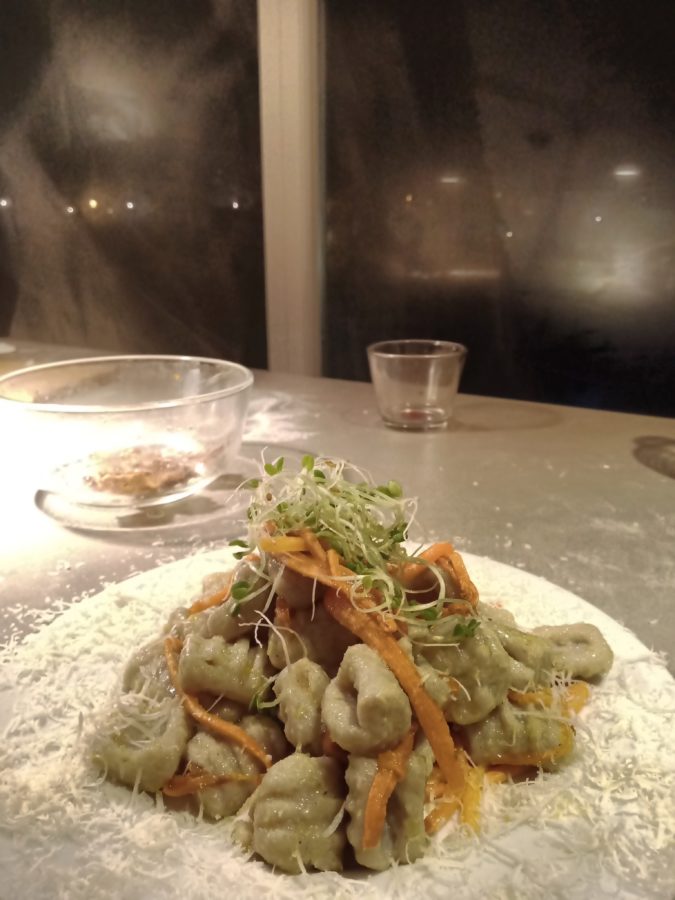 | | | | |
| --- | --- | --- | --- |
| | | | |
| | Gunnar Moen | | |
| | Juan Manuel Alonso | | |
| | Oslo Fjord Sauna | | |
æKjøkken is an noncommercial cultural initiative developed as a clear example of RESHOW in action.
It includes debris materials from diverse exhibitions:
Outdoors
show/date
place
Yellow steel mesh (fence door)
Oslo Architecture Triennale 2016
DOGA · Design og arkitektur Norge
White bamboo (fence and pergola over stair)
Utestemme/Outdoor Matters – A Sensory Exhibition About Landscape Architecture
Nasjonalmuseet – Arkitektur
Construction timber (stair, terrace)
Instalasjon på arkitekthøgskolen, 2019
Arkitektur- og designhøgskolen i Oslo (AHO)
Several screws
(recollection: 2014)
Henie Onstad Kunstsenter
Several screws
Stakkars Oslo, 2014
DOGA · Design og arkitektur Norge
birdhouse (entrance)
KLIMALAB, 2019
Nobel Peace Center
oil barrel (terrace)
KLIMALAB, 2019
Nobel Peace Center
doormat (terrace)
(recollection: 2018)
DOGA · Design og arkitektur Norge
Indoors
paper ( window and floor protection during montage)
recollection 2018
DOGA · Design og arkitektur Norge
rubber (floor protection)
timber (floor installation)
Instalasjon på arkitekthøgskolen, 2019
Arkitektur- og designhøgskolen i Oslo (AHO)
wooden floor
Oslobiennale 2019* -this material was given via RESHOW to Oslo Fjord Hage, later to Oslo Fjord Sauna and then we asked for some rests of what they weren't going to use.–
Myntgata 2-kvartalet
plywood plates (walls)
Oslo Architecture Triennale 2019
ROM for kunst og Arkitektur
acrylic (entrance wall)
Exit, 2019
Munchmuseet
OSB wood (base for acrylic wall)
(recollection 2019)
Munchmuseet
wood (bench)
Oslo biennale 2019
Myntgata 2-kvartalet
lights
æGalleri 2013 & æDEG15, 2016.
antipodes café
2 halogen bulbs 10º
(recollection: 2019)
Nasjonalmuseet
industrial felt (drawers, coasters and placemats)
"Et sted å være." 2017, 2019
Nasjonalmuseet – Arkitektur
Kitchen furniture -isle- (base, not the counter)
NOREMA show room
NOREMA
grey bar chairs
FLOKK show room
Flokk
| | | | |
| --- | --- | --- | --- |
| 1 container | | | |
| | 2. floor | | outdoors |
| | Full kitchen |   | signs (cornerstone, pavement sign, name sign) |
| | toilet | | table and bench/chairs (when activities) |
Location
| Monday | Tuesday | Wednesday | Thursday | Friday | Saturday | Sunday |
| --- | --- | --- | --- | --- | --- | --- |
| By Appointment Only | BAO | BAO | BAO | BAO | BAO | BAO |