Overview
Listing categories Exhibition
Address

Vei 100 2, Longyearbyen. Svalbard and Jan Mayen, Norway

Location / Region Norway

/

Longyearbyen
Venue

Galleri Svalbard

Date from

2015.08.13

Date to

2015.09.10
Description
In the frame of the 90 anniversary of the Svalbard treaty, antipodes café presented the second solo exhibition of the project "Explorations in the Norwegian flag".
The exhibition included:
A timeline of the

history

of the Norwegian flag, including official suggestions ,

both redraw with a same criteria as in the website of the project.

An installation presenting more than 500 proposals of personal flags made in workshops, related to the project, at diverse schools around the country.

An interactive installation called "Endre", where the current Norwegian flag could be altered by visitors.

An interactive installation where visitors were allowed to develop their own flag, or see the flag designed by others by using the digital platforms "Skape" and "Se".

The subtle artwork "Memoria", where all windows of the gallery were blinded, as a gesture reminding the windows of Oslo, -still- covered after the terrorist attack in Oslo.
The exhibition was open the same day as the 90 anniversary of the Svalbard treaty and was promoted and covered by local media.
---
EXHIBITION

Utforsking av Norges flagg #2
Project presented: Utforsking av Norges flagg. (Eng. Explorations in the Norwegian flag)
Artistic Director Galleri Svalbard: Jan Martin Berg
Poster
antipodes café
Pictures
Alex Asensi
antipodes café
---
SUPPORT
Digitalt platform "UNF – Skape og Se"
KULTURRÅDET – Art and New Technology 2015
THANKS
Galleri Svalbard
Huset, Svalbard
Icepeople, Svalbard
Svalbardposten,
Pulp Grafisk AS, Oslo
&:
https://www.antipodes.cafe/unf/takk
---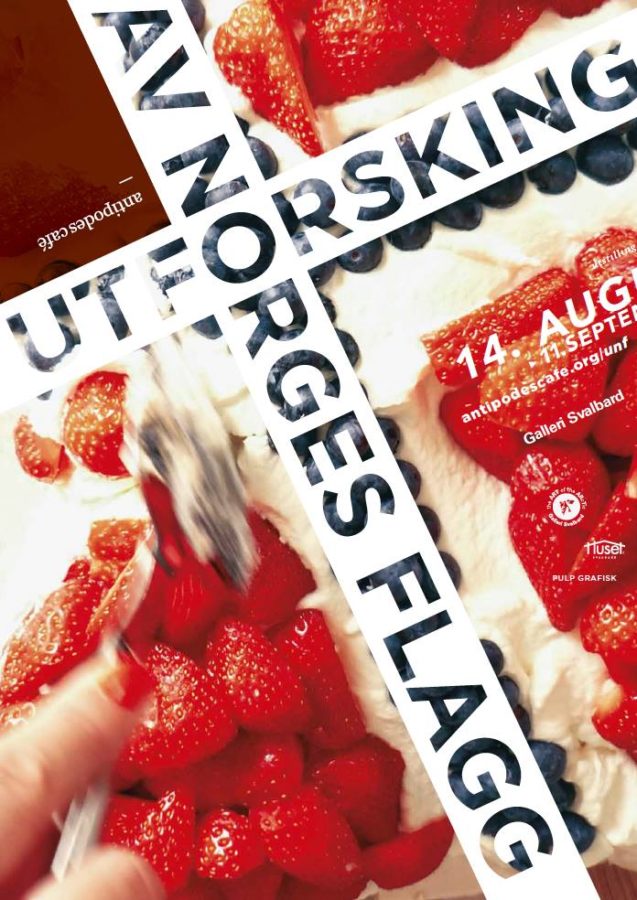 Location
Monday
Tuesday
Wednesday
Thursday
Friday
Saturday
Sunday

11:00

-

15:00

11:00

-

15:00

11:00

-

15:00

11:00

-

15:00

11:00

-

15:00

11:00

-

15:00

11:00

-

15:00