Video
Description
With the aim of sharing our living references from diverse topics and latitudes –as well as to share time with them and keep learning–, antipodes café invited this time the world renown graphic designer David Carson for a short but active visit to Oslo. This trip was kind of coordinated with "Creative Mornings Oslo" who invite both David and Felipe to give a talk at Grafill (Norwegian organisation for visual communication) about freedom and creativity. In addition to participating in this event, antipodes café arranged two key conferences in specific places, one of them in Kulturhuset i Oslo and the other in Westerdals ACT Oslo.
Soon before his visit David Carson was distinguished as one of the 30 most influential designers in Apple computers 30 year history. Also in 2014 he was named as an "AIGA Gold Medalist" and The Smithsonian Institute highlight him as "one of Americas most important artists". All this cockades helped to find support and then impulse to see him again, knowing –& quite well– that he is not a guide in mellowness… but it worst the try if you have interest in visual communication, moreover in days where graphic design(ers) drowns in a timorous as sterile current mistaking legibility for communication. And It can't be for lack of references.
---
ORGANIZATION
Creative Mornings Oslo
---
"For May's CreativeMornings/Oslo event, David Carson & Felipe Ridao, two very renowned graphic designers from the U.S. and Uruguay, put in question how the freedom to create art that scares, art that inspires, art that sometimes does not make sense—is all achievable as long as there is freedom.
David Carson in an interview said that he "had total freedom," and did not follow the directions that his teachers and influences had. He also said in the same interview that "the lack of training helped." In this way, he not only had the freedom to create what he wanted, but he relied solely upon himself to create." CMO (source)
---
For this Talk, Felipe presented the work made at that time for the visual communication of Byversktedet.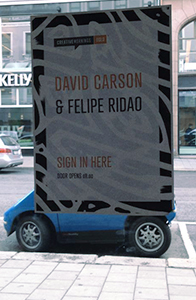 Location
' data-map-type="ROADMAP">